Well, I've been a busy sleepy dragon.
Don't ask where I've been this last month, because, I don't even know. It's all a blur.
But I'm here!! And now I can sort of fix this… pesky absence of mine. Consider this my "back from dead" post. It'll be full of dead people, which is ironic, but what can I say, this stuff happens (or… or we can pretend it does. Yep).
SO, I'M JUST GOING TO FLAIL ABOUT THIS BOOK ALREADY
As you may have seen somewhere (hint, hint, my mid-year freakout post), Stalking Jack the Ripper just barged into my favorite books of the year, and this review will be yet another mess of somewhat coherent thoughts about it, with the occasional comment about how awful tea is. Because why not. Flails lay ahead! Step in with caution.
~ First things first! It's 1880 England, asylums are the stuff of nightmares and people have no chill about what's proper behavior and what is not.
This is high society. Breaking patterns will lead to a life of disgrace. DO AS WE SAY OR ELSE. We've put together a little guide to help you adapt, you can thank us later.
Attending the same circus performance as the queen: very desirable.
Frilly afternoon teas and mindless gossip: proper stuff.
Apprenticing in forensics while being a girl: most decidedly not.
~ Enter Audrey Rose, who is a girl. And the daughter of a lord. And who likes pretty lace dresses, while also wearing black "ensembles of death" to the park.
She is very much apprenticing in forensics. Such outrage, how dare she.
~ Needless to say, she's pretty cool and has a somewhat crazy life trying to hide her "horrendous" practices.
But sneaking around the city at night looking for a serial killer might not have been her brightest idea. More on that later.
~ Now the funny thing about Audrey is how she manages to be absurdly out of place and just fit in at the same time.
Postmortems and silk shoes are such a lovely combination. But better still, is the mix of:
~ Oh dear, the very mention of romance is so very inappropriate.
With:
~ But, let's dissect bodies before breakfast. Cut, cut, innards, liver… Does anyone want some tea?
So much tea. So much torture.
~ And speaking of vile tea, I feel sorry for Audrey with all the afternoon teas she has to put up with.
Not because of the tea itself, she likes it (blegh). But alllll that senseless boring talk. It's like every girl in London has been brainwashed and made into a brain-numbing weapon ready to kill. Except for Audrey's cousin, she's a cool one.
One of the girls has the brilliant idea of hosting a masked ball where guys go as Jack the Ripper… Right after a new murder happens. AND THAT'S MESSED UP, GIRL. I only forgive you because there was no tea involved. Back to Audrey now.
~ I just love how she goes from being helpless when someone underestimates her, to actively making everyone uncomfortable when they as much as imply something's not appropriate because she's a girl.
She makes them all squirm. It's lovely.
"What you're about to see is rather unpleasant," Mr. Doyle warned, staring at me in particular. "Especially for a young lady."

I smiled, leaning over the desk and used the sweetest tone I could muster.

"In my spare time I flay open bodies of the deceased. Two of whom were victims of Leather Apron. The scent that hung in the room would drop a man to his knees, and I aided my uncle during the postmortems while standing in gelled blood." I sat back in my chair, the leather squeaking its own disapproval.
~ Now you may be wondering what on earth all this murder business is, or you may already know everything about it, and either way, I'm going to tell you. Because I'm nice like that.
There are gruesome murders happening on the streets. Bodies need to be studied to find the killer. Audrey gets pulled into the mess, because, you know, postmortems. Sherlock-worthy stuff happens. And no one!! Can!! Be trusted!!
~ But let's talk about Thomas Cresswell now, because I'm in love with him.
Not in a romantic way, mind you. That'd be so inappropriate. Excuse me while I gasp in shock.
~ Thomas Cresswell is… To put it nicely… The most infuriating, sarcastic, shameless flirt to have graced the pages of a book. And I just need to read more of him.
His every joke makes you mentally scream "HOW COULD YOU", while… Also making you love him more? Which must make sense somehow?
Audrey just wants to kill him all the time, but then, oh no, the flirting wasn't fake and she loves him back, how did this happen??? It just happened. It's perfect that it happened.
"If I don't murder you this afternoon, it'll be a gift sent directly from God Himself, and I vow to attend services again," I said, holding a hand against my heart.

"I knew I'd get you to church eventually."
~ And since Sherlock has already been mentioned, let me just add that Thomas is brilliantly Sherlockian.
He sees everything. Then makes a point of arrogantly telling you all about it, and you're stuck hearing him out and being impressed, annoyed, and baffled by his lack of common sense in all things considerate. This is murder-worthy to Audrey too.
"Now he was doing that infuriating thing where he'd inevitably guess my secret plans, and I'd have to murder him. In front of all these witnesses, no less. What a pity."
~ Bottom line, Thomas and Audrey are very much perfect.
Let them drive each other crazy, I say. I'll be here for it.
~ So we have sarcastic banter, Jack the Ripper on the loose, butchered women everywhere, and loads of tea.
I'll just say I loved it. And why I read it right after a cute fluffy romance is a mystery for another time.
~ I only have one regret with this book, and it's that I guessed what was going to happen before it did…
I could have been shocked AND chilled instead of just chilled, but nooo, I spoiled myself the surprise. On the bright side, this means I'm slightly Sherlockian too. On the also bright side, I'll never be as annoying as Thomas Cresswell.
~ And to wrap this up nicely, can I just mention the crazy amount of research that went into writing it, because, Kerri is a genius.
It's all based on real dates, and names and people – she has a section at the end of the book detailing every change she made to the real events and which people were real but got an extra backstory, and I just love that there was an actual psychic who offered to help Scotland Yard find Jack the Ripper. It's so perfectly quirky.
~ That seems to be it, so let's forget how odd this review is now, and here's to never having to drink tea with brainwashed ladies.
Oh, did I mention it's a series with four books? It's a series with four books. This makes me happy.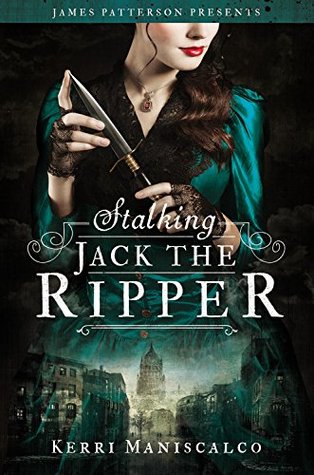 Seventeen-year-old Audrey Rose Wadsworth was born a lord's daughter, with a life of wealth and privilege stretched out before her. But between the social teas and silk dress fittings, she leads a forbidden secret life.
Against her stern father's wishes and society's expectations, Audrey often slips away to her uncle's laboratory to study the gruesome practice of forensic medicine. When her work on a string of savagely killed corpses drags Audrey into the investigation of a serial murderer, her search for answers brings her close to her own sheltered world.
Have you read Stalking Jack the Ripper? Would you love or despise Thomas Creswell? And what do you think of… tea? (It's okay, I won't judge)