Okay, I've done it again.
I attacked someone with random questions. And then I wrote down a crazy post title. And now everyone's confused. What on earth are we cuddling, and who is this mysterious Lady of Haru??
But stop being so impatient, will you? It's not like it's been a month since my last post.
… Okay, it has been. Sorry, then.
But I'm first bribing you for forgiveness, and second, telling you about our awesome guest, who, by the way, is royalty in the dream realm. That should be enough to keep you from chasing me into the woods to get answers faster. Right? Really, don't do that. You could die.
So, let's get down to business.
As you might expect from any interaction with me, an author interview is just the kind of thing that could get… Pretty crazy. So on top of having her book, Tales of Lunis Aquaria, out in the wild for everyone to see, Tessa Hastjarjanto is now an expert on dealing with questions about… Sparkling drinks, costume parties, dark caves, and elephants. You've got to be awesome for that. She's awesome.
But I'll let her show you that herself, and, you know… I'll run into the woods while you're not looking, or something like that. Because I can.
---
Thanks to Alex and Anna for adding their own questions to this madness, instead of hitting me on the head with a pan.
Tell us who you are, without using any words related to books or writing.
I'm a wizard of wonder, but a clumsy one. The miracles I conjure are often filled with faults and flaws. If you give in to the illusion and don't mind being manipulated, you're in for a treat.
Oh, I know for a fact that EVERYONE here likes being manipulated, so we should start with your new identity… That we're giving you to, um, manipulate them without consequence. If you had to come up with a pen name that's a mix of your name, a fictional character, and a common household object, what would it be?
Lady Evelijn Sugarspoon of Haru.
Okay, that one's a keeper. And it sounds pretty mysterious, so what is one thing about you that would surprise most people?
I wrote my master thesis on adapting game design for educational purposes. Or maybe that I deal with chronic pain daily. Or that I wrote said master thesis in two months (rather than half a year, a year, or two years) in the worst pain flare-up of my life.
And with just that, I already think you're a superhero. So let's make it official. Based on your writing process, what would be your superpower and weakness if you were to mutate?
I'd be able to teleport, but wouldn't know how to express myself in a non-verbal manner.
Then stick to verb-ing we shall! Pretend your book is a person. How would you introduce it to someone else?
Hi, I'd like you to meet Lunis Aquaria, and her nine personalities. She's gente, friendly, and likes to make people happy. But don't think that she's just a bubbly person. There's a dark side and she's been through more than you'd guess.
Bubbly… And dark. I think that should be made into an ice cream flavor. So what's something that could never happen in Lunis Aquaria, no matter what?
Hope will never be the thing that will save the world from utter destruction. (I'm looking at you, Soul Eater.)
Oh, there's a Soul Eater. We've been warned. Moving on to more… Sideline things… If you could choose any one job to do besides writing, what would it be?
Narrative designer in the game industry. It's still related to writing, but it's so much more than just putting words on paper.
And it sounds like the kind of job that could accidentally trap you inside a genie lamp. I mean… No, not really, but just to be prepared… If you were a genie, what's one wish you would never grant?
Any wish that could hurt someone. We need more love, not hate.
And as for your own wishes! What's your wildest author dream?
Having the world of Lunis Aquaria come to life in a big budget movie, series, or game.
Ohh, one sec, we're casting that. If your book was adapted for TV, who would you want to play one of your characters, and why?
Can I answer this for my current work-in-progress? I have a Lucifer in my story and Tom Ellis is just perfect.
Now, time to spill the dark secrets… What is the most interesting snack you ate while writing your book?
Japanese snacks my brother's girlfriend brought back. I'm not very adventurous with snacks and it's better if I don't snack while I write. That's one of the easiest ways to gain weight as a writer.
Yeah, I can see that turning into a problem… But you'll probably want to get a few snacks now, because we're moving you for absolutely no reason. If you could write in one of these places, which would you choose?
a cavern full of glow-in-the-dark creatures,
a tiny cabin in the woods with *maybe* wolves nearby,
a deserted island with plenty of coconuts and not much else,
an underwater glass igloo surrounded by fish and a few sharks,
or a treehouse with a view to an erupting volcano?
The cabin in the woods. I'd probably befriend the wolves and cuddle with them. I'd probably do well on a deserted island if it's tropical. My body seems to perform better when it's over 20 degrees Celsius.
The cabin it is. Time to pack for it, so what's your favorite writing outfit? Would you trade it for a unicorn onesie?
I don't have a special outfit for writing, but it's always something that I can go out in, since I do have to walk the dog. If I could wear whatever I wanted, it would be yoga pants and a loose sweater, or a sundress if it's warm enough. The unicorn onesie only if it's warm enough.
So you're all set! Now that the cabin's all yours, tell us, what is your favorite part of writing?
World building, definitely. I've done that since I was seven years old and never stopped.
And to make things even with a little pesky villain, what is your writing mortal enemy (plotting, typos, writer's block)? Choose your weapon to defeat it:
a pillow
poisoned cookies
smelly socks
The words 'as well', 'but', and the comma. I'd love the feeling of smothering them with a pillow.
I'm quite fond of pillows as weapons too, I must say. So now that the threat's been vanquished, let's move on to the hard questions… Have you ever lost your dog in the snow??
Sadly, we don't get enough snow to lose Shiro (our Swiss White Shepherd) in. Her fur also turns a little creamy when it's getting colder. She always comes back though. So even if we did want to leave her somewhere, she'll find her way back.
*and look at that, she has a cutie Instagram*
I'm kind of loving Shiro too much, so I'll give you an excuse to let me dogsit… Choose one of your characters to take to a costume party. What does each of you wear?
One of my characters is a giant wolf. I'd probably go for Princess Mononoke cosplay with the wolf as wolf.
And for the party, you have to create some kind of drink inspired by your book. What would it be?
There's a blue sparkling wine with glitter in it. That fits with several of the stories in Tales of Lunis Aquaria. Water or the colour blue appear often and have a huge part in them. Archipelago of Wonder is literally about islands surrounded by tropical waters with magic in the air. The oasis in Shepherd's Stick are also blue. The wolf's eyes are blue. And Skylar sails the blue ocean to fight a sea monster.
Okay, someone loves your sparkling wine… And is now getting a tattoo with a quote of yours. No time to freak out, which one do you suggest?
Oh, man. This one's hard. I already forgot what I wrote a day ago, let alone longer. Don't get a tattoo of one of my quotes. Get a tattoo of Nebula, the fancy constellation cat. That's much more impressive.
I would approve of that. The party is over now, there's a guy with Nebula tattooed on his shoulder, and you're ready to relax by yourself… Tell us about a hobby of yours (other than writing), without naming it directly.
It often leaves my fingers stained in red. Or blue. Or purple.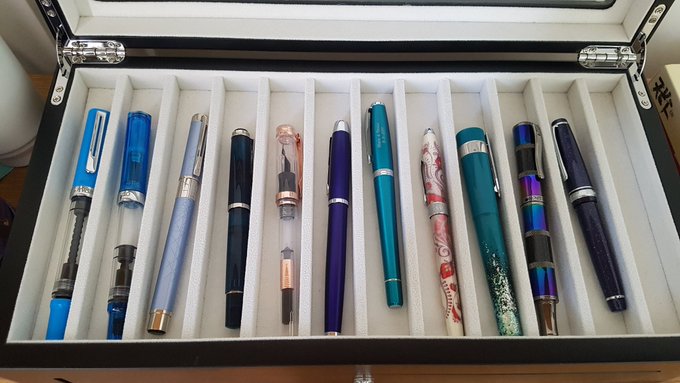 That could mean many things, but I'll assume it's not hunting for rainbow blooded fairies. Right? Couldn't be. So to wrap this up in a big way…
You've been given an elephant. You can't give it away or sell it.
…What do you do with the elephant?
Care for it, cuddle it, spoil it. I hope she'll be good friends with Shiro.
---
"Thank you for the great questions! Some tested my imagination and I'm glad I still have it in me to answer with humour.
I'm lucky to be where I am now. After I quit my full-time job, my husband allowed me to pursue a writing career, something I had been working on in the evenings and weekends. My health was a major reason why I quit, as was the stress of office politics that impacted my health negatively. It took me over a year to recover from the immediate stress and I feel that I'm still recovering. Tales of Lunis Aquaria is my first book, but two more books will come out this year. Follow me on social media to stay up to date with my writing or gaming interests. Maybe I'll throw in a few dog pics." – Tessa
About the book
The balance is tipping. Something shifts in the world of Lunis Aquaria. Menacing creatures, daunting deserts, and treacherous mountains. Hardships and solace, friendships and love. Find out more of what went on before the world is lost in disparity and meet the heroes who will one day restore harmony.
Tales of Lunis Aquaria is a collection of nine short stories set in the fantastical world of Lunis Aquaria: The coming of beasts • The sacred maiden • Moonflower • Thomas and the wolf • The witch from Monterra Mountain • Shepherd's stick • Archipelago of wonder • Decapod's ire • Lovers across time
If you buy the Amazon paperback version, you can download the ebook for free! Contact Tessa for signed copies.
About Tessa Hastjarjanto
Tessa Hastjarjanto is a Dutch/Indonesian writer from the Netherlands. She writes speculative fiction, and blogs at narratess.com about books, fountain pens, and writing.
From a young age, she imitated popular stories and games in creating her own worlds. This love eventually led to a master's degree in media and game studies at the University of Utrecht. However, a mundane desk job was enough to inspire her to follow her creative passion. The first fanfics were written in lunch breaks and soon original fiction followed.
With the support of her husband, she now focuses on her writing career while battling chronic pain. Swiss white shepherd, Shiro, acts as a therapy dog to keep her healthy and reduce stress through extensive cuddle sessions.
---
You can follow her on Twitter, Instagram, and visit her website and blog!
Aaaand that wraps up the royal visit, so while we bring out the biscuits and lemonade, tell me who you'd like me to interview in the distant, faraway future (I mean, err, soon) and… What would you do with an elephant??